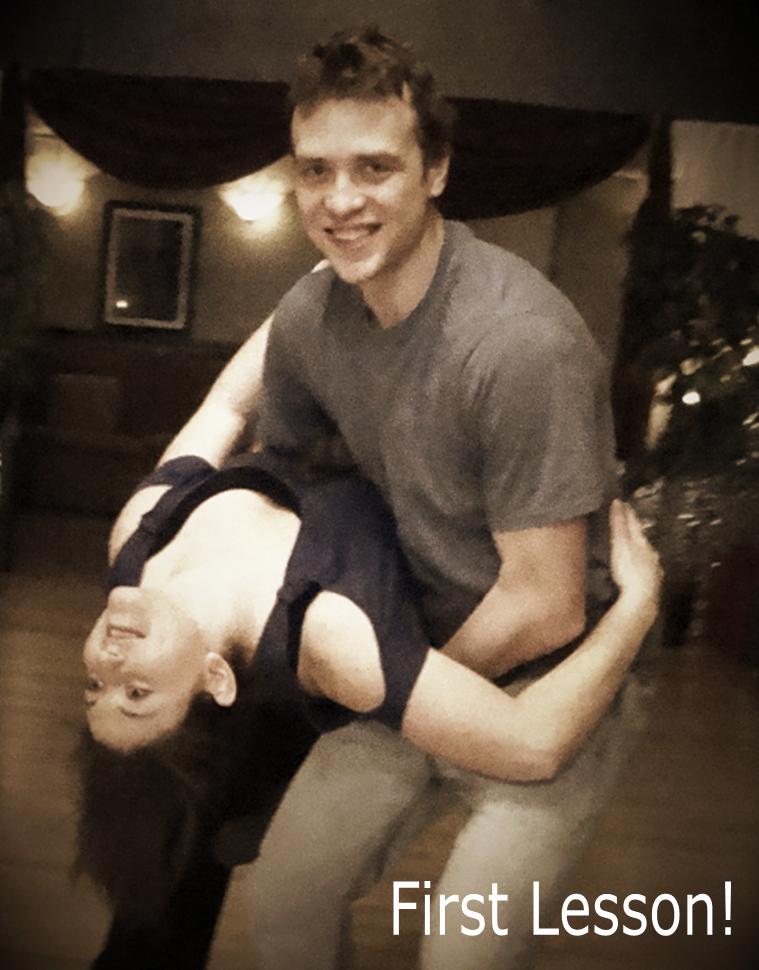 Welcome to your new world of dancing!
We are very excited you have decided to join us in the fun! If you are a little nervous to start, we understand (we've all been there too!). We strive to make you feel as comfortable as if you were walking into "Cheers." Studio 6 was created to be "your place." Along with our main ballroom, we also feature 2 separate quiet private studios for you to begin in. Great opportunity to meet new friends in a comfortable environment or score points for date night.
Our online self-service site allows you to not only purchase your lessons online 24/7 but also request booking times when you are ready to begin. We can also assist you via email or text or call (253) 905-5301. Please include details.
Not sure which class to start with? Bellow are some helpful suggestions. Our "Getting Started" packages are a fabulous way to get dancing to any kind of music right on your first lesson, as well as find your favorite learning environment, in an easier way than you ever thought possible. Be ready to show off some moves after your first lesson!
For 1 Person
4 Lesson Getting Started Package
2 Private Coaching Sessions on Basics

1 Group Class Session

1 Friday Night Drop-in Mini Lesson & Dancing
For 2 People
4 Lesson Getting Started Package
2 Private Coaching Sessions on Basics

1 Group Class Session

1 Friday Night Drop-in Mini Lesson & Dancing
For 1 or more people
4 or 5 week Group Class series
Your choice of one of our weekly group class series that start at the beginning of each month.

Popular for beginners: Saturday Beginners "Chicken's Class," Wednesday WC Swing, and Thursday Salsa. We also offer youth & teen classes.
For 1 or more people
Drop-in Friday Practice
Friday 7:00p drop-in Tango Practica with 7:15p mini beginner taster lesson.

Friday 8:30p drop-in Latin Night learn-a-move mini lesson & dancing (Salsa, Bachata, Merengue, more!).

Your choice, $10 or $15 for both (per person)
Ready to start your lessons?
Ready to schedule your first private coaching session?
Simply sign into your booking account that you purchased from.

Click on the "Appointments" tab (link above & bellow take you there directly) and follow the the prompts. Don't worry about accidently clicking on a different choice than you wanted or not know which instructor to choose as we will review your request before confirming it in the schedule.

Please fill in the "Notes" section with details on your request for the instructors to review and choose to accept you to their schedule. Ex: Why you want to learn/want coaching. Any goals or goal dates. If the appointment is to focus on yourself or you and a partner.

Your first lesson will begin with what will be your go-to dance to use with any kind of music in any scenario. We will make it more comfortable, fun, and easy than you ever thought it could be as we take away as much multi-tasking as possible and play your favorite music. Your 45 minute private coachings will go at your pace.
Q & A
"What if I don't see an appointment available for the day/time that works for me?"
The "new client" spots may have filled up and we do book out quickly so be sure to plan ahead. Text or email us the schedule you were hoping for so that we can add you to our waiting list including on-going student spots that might have a cancelation available for you to take over. 
"What if I'm not a "dancer?"
You don't have to be a dancer to learn the action of dancing. Take the first step toward a lifetime of fun!
"Do I need a partner?"
No partner needed to attend a class or event. We have many new friends looking forward to meeting you and dancing with you! For example, our Friday night practice has an average of 3/4 of the attendees coming without a partner and/or ready to dance with all attendees.
"If I come with a partner, do I have to switch partners?"
No. While switching partners can be helpful in learning, we believe that it is not always helpful…it all depends on where you are at in your learning. If you are on date night, we know how challenging that can be to find and we appreciate and are honored that you are choosing to spend it with us.
"Can I purchase now and schedule later?"
Yes!
"Can I purchase this as a gift certificate?"
Yes! You can do that right from our self service site 24/7! Click here to view our Gift Certificate page.
"What do I wear?"
Dancing is a great opportunity to be dressed up or dressed down; whatever makes you feel comfortable. Layers can be handy as you will probably warm up rather quickly. Shoes are the important part. In a perfect world, everyone would get suede bottom dance shoes just as they would get equipment for any other sport. But, in the meantime, just make sure you're not going to scratch the floor or get stuck to the floor. A back-up pair of socks is the best idea. If you have non-outside shoes, that's even better…think of entering a basketball court or racketball court in the gym, they usually don't allow outside shoes.
"Should I find some high heals to wear?" Not necessarily. If you're used to spending most of your day in flats, that's where you're used to your balance being. Remember, you're going to be learning something new and the few distractions the better. Safety is also an important factor for us.
"What is your cancelation policy?"
For private coaching appointments, please give us a minimum of 48 hours notice for full refund so that we can fill the spot with someone from our waiting list.
For group classes, text us ahead of time so that we have a better chance of balancing leads & follows in class so as to not disrupt the other student's learning. By texting us ahead of time as soon as you know, we will turn your missed class into a Friday night credit that you can use any time…that way you still get to learn AND you get to practice!