Amon Greene
Tai Ji 
Level: for all!
Instructor: Amon Greene
When: 1st Sunday – join Amon's email list agtaijiquan@gmail.com to receive updates and confirmation of class dates
Time: 12:30-2p
Tuition: Drop-in able, suggested donation to cover rental of Studio 6 Ballroom Event Hall & Studios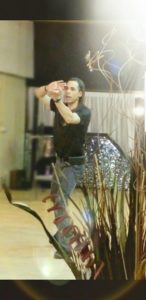 This ancient art can be put through many lenses allowing one to focus on any of its many facets Self-defense, longevity and health, strength, grace and inner calm are all there for the taking in Tai Ji Quan. In this class students will receive an introduction to this medium of body awareness and personal cultivation including. Nei gong (internal mastery) exercises, Yang style 21-posture, Tai Ji Quan short form, and Tui Shou partners practice commonly called "Push Hands."
All participants of all skill levels and capabilities are welcome.
Instructor Amon Greene has been teaching for almost 20 years. Prior to his current career in massage (both aide each other), Amon was involved as a competitor and instructor in martial arts. In 2010 he traveled to Shanghai to witness one of the first public performances of Tai Ji by the Wu Dan monks. He has a life long passion for Tai Ji and would be honored if you'd join him in the art of Tai Ji Quan.
Congratulations Amon on making the world massage finals in Denmark in 2018!