Welcome!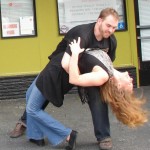 We are very excited you have decided to join us in the fun!
If you are a little nervous to start, we understand (we've all been there too!) and strive to make you feel as comfortable as if you were walking into "Cheers." Studio 6 was created to be "your place."
Along with our main ballroom, we also feature 2 quiet
private dance rooms
for you to begin in. You can purchase and request your lesson time directly from our online booking site or we can help you via email or text or call (253) 905-5301. Not sure where to start? There are so many choices! Here are some suggestions…
Best way to begin: "The Introductory Package"
4 lessons 2 – 45 minute Private Coachings 1 – Group Class Lesson 1 – Friday Night Lesson & Dancing = $79 for 1 person or $99 for 2 people (over a $200 value!) Introducing you to the world of partner dancing! Start a sound foundation, understand the learning process, and get a professional opinion of how to proceed towards your goals. You'll be surprised how much you'll accomplish in this intro package; you will be able to hit the town and dance the same night with our basic dance that works with any kind of music! The 2nd lesson will start exploring dances to find one(s) that fit you well (like clothing!). This is also our most popular gift certificate! We're excited for you to get started on this life changing journey! This is a 1 time package for those new to partner dancing. Purchase Now
Beginner's Group Classes
Group classes run monthly 4-5 weeks, starting at the beginning of each month, for $60-$75 per person per series – register online for points towards $ off on future purchases!
"Chicken's Class" for beginners – Saturdays 12:00p – check our online booking program for the next start date. Nervous to start! You'll not be alone in this class where we will go over a sampling of very useful dances.
Intro to WC Swing – Wednesdays 7:45p Great beginners dance especially for understanding how to lead and follow. Lots of opportunities to use this dance!
Salsa Foundation – Thursdays 8:45p Popular dance with lots of opportunities to hit the town and use it.
We also offer youth & teen classes
For fun: Our $10 drop-in 8:30p Friday night dancing includes a mini lesson and is a fun way to start your weekend whether it's your date night (which we honor) or you're coming out to make new friends (plenty of partners!). Add on weekly Tango practica including mini lesson for only $5 ($10 not as an add-on to the 8:30p)
Enroll Now
Transferring Students
Welcome to the exciting new and unique world of Studio 6 Ballroom! Thank you for choosing us for your dance goals! It is important to us that this is the right fit for you, the coach, and the studio. We recommend starting with a coach consultation or private coaching. We look forward to talking with you about your dance experience & goals and thank you for putting your trust into us!
Purchase Now

Help me decide!
We love getting a chance to personally help you!
Call or text (253) 905-5301 or Email
info@studio6ballroom.com
(a great way to connect quickly and let us know your requests, dreams, and schedule). If you connect with our voicemail, please let us know the latest time to call you back as we teach late into the evening.
Details
Intro Package is intended for students new to dancing and good 1 time only. Full payment must be made prior to appointment time to make reservation and is non-refundable after 1st lesson is taken. 48 hr notice of cancellation to not lose your lesson credit for private Coachings. Group classes can be made up on Fridays at 8:30p. Group classes are priced per person. Private Coaching is priced per amount of time up to 2 people. For more than 2, simply add $10 per person.
Common Questions
"What if I'm not a "dancer?" You don't have to be a dancer to dance together. Take the first step toward a lifetime of fun! "Do I need a partner?" No partner needed to attend a class or event. We have many new friends looking forward to meeting you and dancing with you! "What do I wear?" Dancing is a great opportunity to be dressed up or dressed down; whatever makes you feel comfortable. Layers can be handy as you will probably warm up rather quickly. Shoes are the important part. In a perfect world, everyone would get suede bottom dance shoes just as they would get equipment for any other sport. But, in the meantime, just make sure you're not going to scratch the floor or get stuck to the floor. A back-up pair of socks is the best idea. If you have non-outside shoes, that's even better…think of entering a basketball court or racketball court in the gym, they usually don't allow outside shoes. "Should I find some high heals to wear?" Not necessarily. If you're used to spending most of your day in flats, that's where you're used to your balance being. Remember, you're going to be learning something new and the few distractions the better. Safety is also an important factor for us.
Gift Giving Very popular for gift giving! The receiver can decide to use this package as given or use it on anything of the same value! A great place to start! The Introductory Packages is designed to introduce you to some of the partner dances as well as begin you on a positive path in strong leading & sensitive following. Whether you are taking this by yourself or with a partner, this will be very valuable information to get you off on the right foot! For the instructor, this package allows them to assess where you are beginning from and how you learn to best advise you on how to proceed towards your goals. This can give you a great opportunity to get an experienced professional's opinion on your best course of action and a program that best suits your needs, so come with questions! This package can be very helpful in ensuring the success & enjoyment throughout your journey into the world of dance. *Private lessons are based per amount of time up to 2 people *This package is a one time only package We reserve the right to refuse service