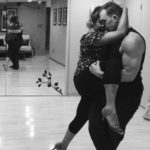 Co-creator, Owner, Event Hall Rentals
Studio 6 was created for dance enthusiasts to come together and enjoy a positive, encouraging fun atmosphere for both learning and socializing.
I served in the Navy for five years. While overseas, I started taking dance lessons. I never thought I'd enjoy dancing as much I did. The fear that I'd look like "that guy" – the one who thinks he can dance but really can't – prevented me from starting for years. After a few lessons with Natasha I quickly fell for both the personal challenge and the fun I was having with other like minded people. I found myself coming early and staying late along with other students because we were enjoying the social outlet so much. Studio 6 was inspired by those times and my desire for others to have as much fun as I did – and am – having learning to dance. I felt there needed to be a suitable home-base where people could hang out and visit as well as enjoy their learning; a place where a Night Club, Social Events & Ballroom collide.
Check out our Facebook page too!